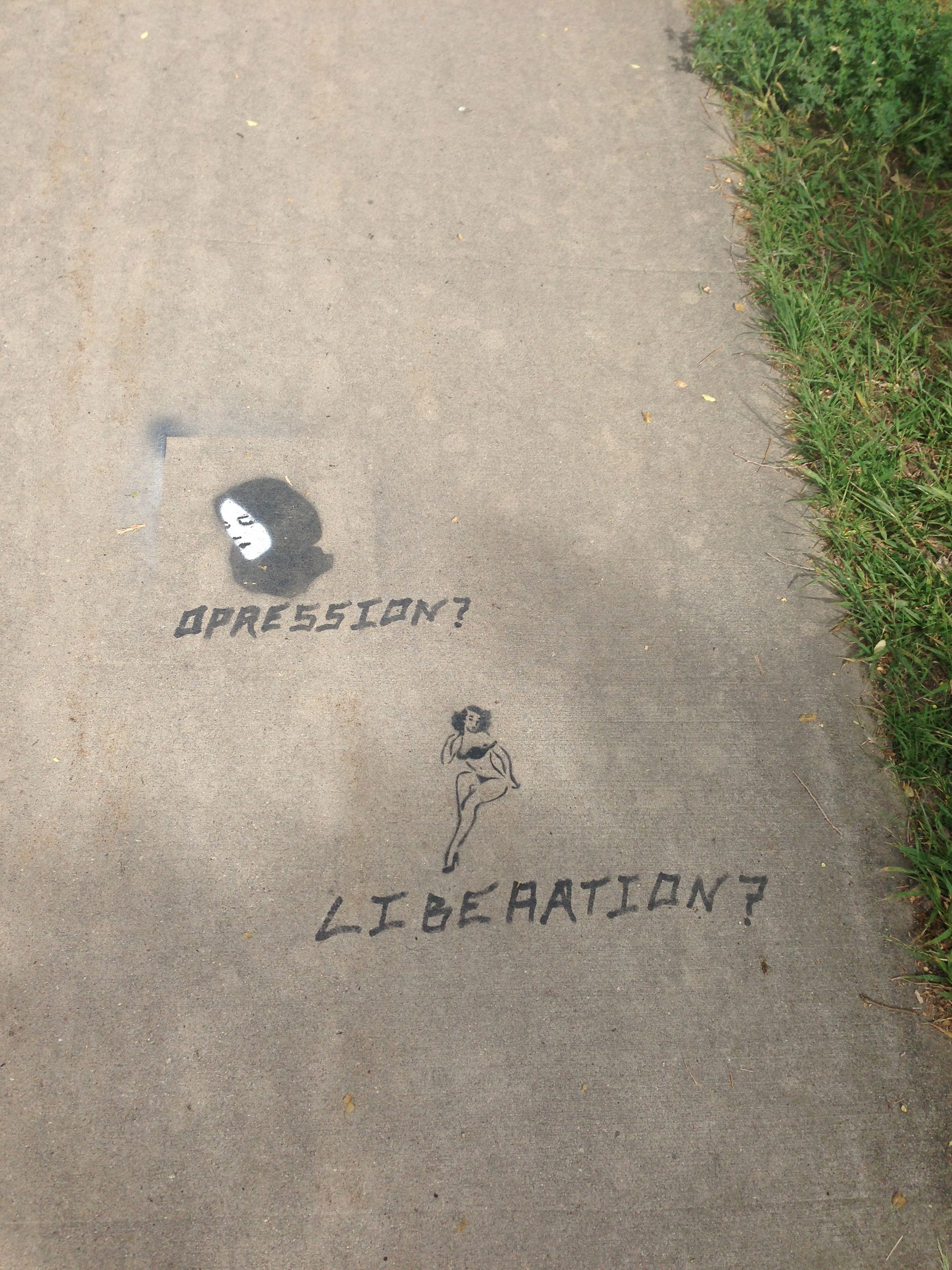 On the pavement of a running and biking path are two images left by an anonymous stencil artist. The first is a profile of a woman wearing a hijab. Slightly lower and to the right of this image is another painted, stenciled image of what could easily be a rendering of an image of a mid-twentieth century pin-up girl.
Below the woman in the hijab is a single word "Oppression?" and below the pin-up girl, "Liberation?"
While some might see these images and bemoan the defacement of public property, in reality there is much more to be found in this small stretch of sidewalk.
This is a quarter's worth of deep curriculum here that could push the most precocious students to challenge their beliefs about the world.
What is public property?
What does it mean to be liberated?
What does it mean to be oppressed?
How is gender defined across cultures?
How does your view of the world influence your understanding of how other people live?
What does art do?
What should art do?
Who decides the value of art?
When might it be acceptable to break the law?
The questions are potentially never-ending. They should be. Good, thoughtful teaching and learning is a process more generative of questions than hard answers.
In the schools we need, the world provides a curriculum rife with opportunities for questions, and the people within these schools recognizes these opportunities for what they are and could be.
This image on the sidewalk need not come packaged in an aligned, approved, and adopted curriculum. It need only come from an individual who has developed the habit of mind that allows, "Hmmm, that looks interesting," to be followed by, "I'll take a picture of that and see what we can do with it."
In the simplest of terms, this process is probably perpetrated by classroom teachers. At least at first, this is likely the only way to cultivate such curiosity (especially given the educational and curiosity neglect many children face in schools). Given time, though, this will become the culture of the classroom. Given more time, it will become the culture of the school.
Most importantly, given space, this will develop an understanding that neither classroom nor school is defined by the walls of a building or a designations outlined by a district.
For any of the questions listed above, the only materials necessary for diving down the rabbit hole of inquiry is a device to capture and share the image and then not much else. If the questions are being asked in a school with wi-fi access and a "bring your own device" policy, excellent. If it is a school with access to 1:1 computers, superb. A computer cart or lab? Tremendous. A library within the school or down the street? That'll do nicely.
In the same way that schools must learn to follow questions and allow them to generate more questions, they must consider resources as generative as well. After, "What are our questions?" teachers and students must ask, "How will we find answers?"
Some spaces with over-abundant resources and close community ties will find the process easier to navigate. Those schools with limited access will find it more difficult. What experience has shown and what can always be relied on is the fact that a good and worthwhile set of questions communally generated can overcome however easy or difficult the process may seem.
If students need to find answers, they will find them. This will not change the difficulty of the process in the most isolated schools of Appalachia or the poorest of urban schools. It will, however, make that difficulty surmountable.
A camera and the openness for questions. From there, it's hard to imagine anything standing in the way of learning.