Before my second session at IETA, ran to the vendor hall to snag a pad of paper. I'd rushed in to my first session without laying down some ground rules, and figured writing them down would help me to remember to say them aloud this time. The photo below are the four rules I count as key to positive conversations where learning is involved.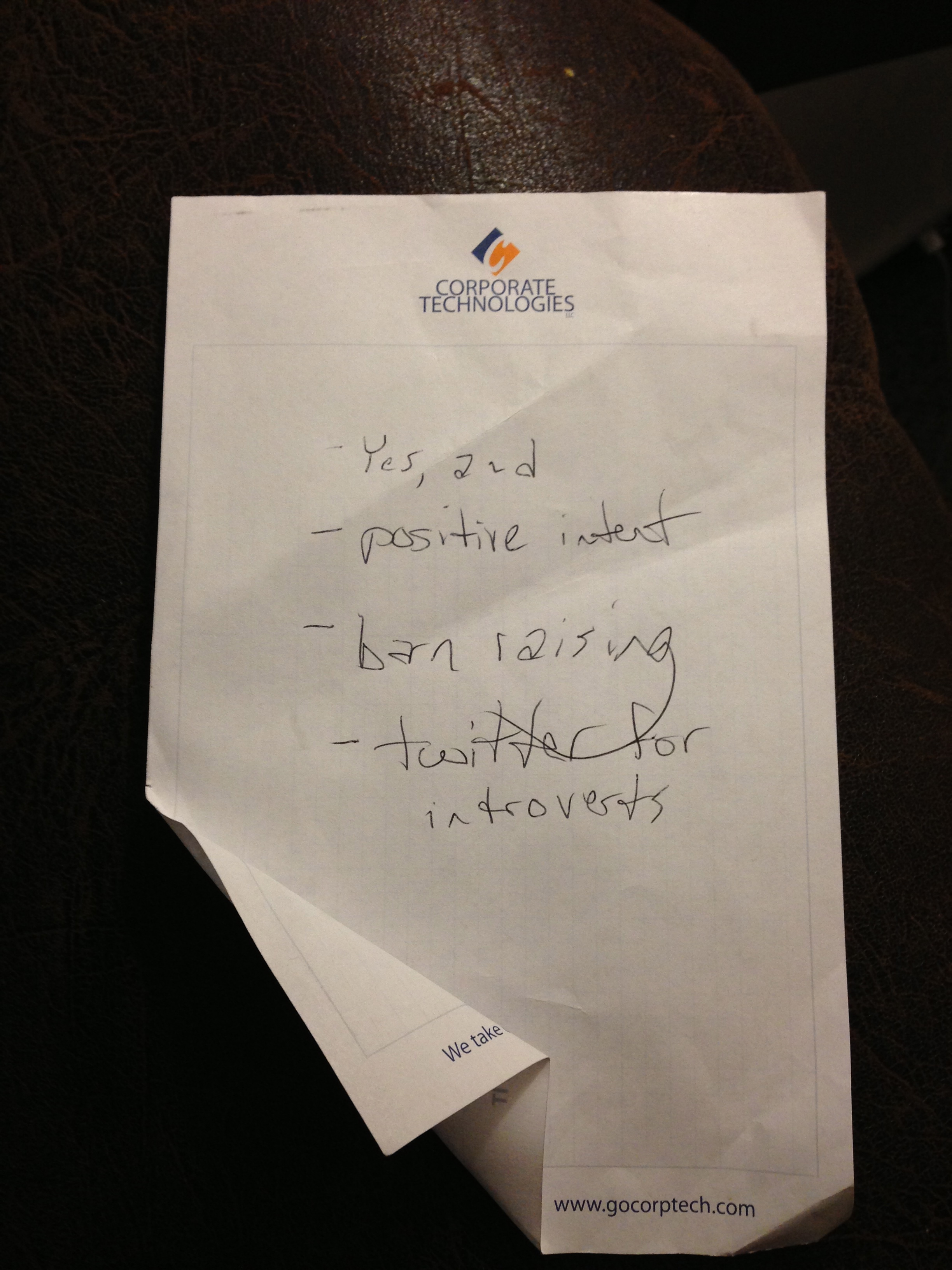 1. Yes, and…
It's a key to improv, and experience has shown it to be a key to getting anything done that might look like a solution. If you've ever spoken to a group of teachers (or any other group of adults in a system who've grown accustomed to how things are done), you know the tendancy of a momentum-killing phrase to pop up, "Yeah, but…" By asking folks to agree to a mindset of "Yes, and…" for at least 90 minutes, you're able to stave off comments that sound a lot like, "Yeah, that's a great idea, but here's why it won't work in my school…" Instead, "Yes, and…" asks participants to approach new ideas from the perspective of, "Yes, that's a great idea, and here's how I'd have to modify it to work in my school…" If I can get people to agree to this line of thinking for the 90 minutes, it's possible we might get some actual work done.
2. Assume positive intent.
My friend Mike believes what he believes. At the same time, he's willing to hear other people out and change his mind if the argument makes sense. "I always assume positive intent," he told me at the beginning of the year. "Even if I disagree completely with what other people are saying, I assume they're coming from a positive place." It was the first time I'd heard the idea put in such a way. It was more adult and less Pollyanna than, "I look for the best in people."
When working with a group, I ask them to assume positive intent. At IETA, for example, the room was full of school, district, and state administrators as well as classroom teachers. These are group that can be counted upon to gripe about each other behind closed doors and mumble those gripes when in the same session. By explicitly asking (and reminding) people to assume the things they heard and disagreed with were coming from a place of positive intent, I hoped to help folks look for common cause.
3. We are raising barns.
One of my professors started class last year by having us read this article on taking a "barn-raising" approach to class conversations. Acknowledging the fact that ideas in groups can quickly get floated and then sink when the next speaker makes clear he was really just waiting for his turn to talk rather than listening, this piece sets a different tone. It asks participants to listen to those who are speaking and comment from a place of supporting or building on what's been said instead of moving to a tangent. The approach helps a group keep focus and allows for the following of ideas to deeper and deeper places. It's a beautiful thing.
4. Twitter for Introverts
It's a back channel with a purpose. Lately, I've been trying to make room for people who have questions or disagree with what I'm saying in a space. This comes from my increasing realization that, as an extrovert, I'm fine speaking up in a group. Others, as it turns out, aren't as comfortable. If I start by inviting folks to tweet me as things move on with questions or comments they don't necessarily feel comfortable saying aloud, I can invite a richer conversation. The key is remembering to check my phone for updates. This tactic allows me to tailor what's going on to a larger portion of the room, keeps my ego in check and clears a path to follow-up conversations later.
There are other hopes and norms to be set when working with a group. These four, though, set a tone that I hope for in a classroom of students, but don't have time to work on so gradually in a conference or breakout session. Plus, when it works, it's a beautiful, iterative, and solutions-oriented conversation.